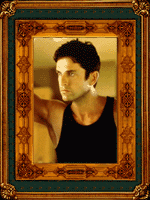 Rupert Everett may have grown up in privileged circumstances, but he was to prove to be a rebel with very much a mind of his own. He attended the exclusive Ampleforth College, where he trained classically at the piano (which he enjoyed), but decided he'd had enough of school by the age of 15.
He went on to successfully audition for the Central School of Speech and Drama in London, but was then expelled for insubordination. He decided to take this opportunity to apprentice himself at the avant-garde Glasgow Citizen's Theatre in Scotland, where he appeared in several plays, including 'Don Juan' and 'Heartbreak House'.
He came to moviegoers attention reprising his stage role on the screen in 'Another Country' as "Guy Bennett" (which also starred Colin Firth), winning instant fame and high praise. Unfortunately, however, his rebellious tendancies seemed to be inflamed by being so fully in the public eye, and he had infamous clashes with the press, and in some cases, his own fans.
His career hovered between modelling and acting for a while - he was a very successful model in Milan for a time - then moved back into film with the celebrated role of Julia Robert's best friend in 'My Best Friend's Wedding'.
A highly successful film career has followed with roles in 'Shakespeare In Love' (again with Colin Firth), 'An Ideal Husband' (with Minnie Driver and Cate Blanchett), 'A Midsummer Night's Dream', 'Inspector Gadget', 'The Importance of Being Ernest' (again with Colin Firth) and 'To Kill A King'.
Also an author, he wrote the novel "Hello Darling, Are You Working?" published in 1992, and "The Hairdressers of St. Tropez". He returned to modelling, becoming the face for Yves St. Laurent's Opium Pour Homme cologne. He also brought music back into his repertoire, singing backup on Madonna's "American Pie" and he also sang "They Can't Take That Away From Me" with Robbie Williams for Robbie's 'Swing When You're Winning' album in 2001.
Rupert speaks English, French & Italian and lives in London, New York, Paris & Miami (presumably not all at the same time).
________________________________________
FILM
Shrek 2 (2004) (voice)
A Different Loyalty (2003) .... Leo Cauffield
To Kill a King (2003) .... King Charles I of Stuart
The Wild Thornberrys Movie (2002) (voice) .... Sloan Blackburn
Unconditional Love (2002) .... Dirk Simpson
The Importance of Being Earnest (2002) .... Algy
South Kensington (2001) .... Nick
The Next Best Thing (2000) .... Robert Whittaker
Inspector Gadget (1999) .... Sanford Scolex/Dr. Claw
A Midsummer Night's Dream (1999) .... Oberon
An Ideal Husband (1999) .... Lord Arthur Goring
Shakespeare in Love (1998) (uncredited) .... Christopher 'Kit' Marlowe
B. Monkey (1998) .... Paul Neville
My Best Friend's Wedding (1997) .... George Downes
Dunston Checks In (1996) .... Lord Rutledge
Remembrance of Things Fast: True Stories Visual Lies (1994)
The Madness of King George, (1994) .... Prince of Wales
Prêt-à-Porter (1994) .... Jack Lowenthal
Dellamorte Dellamore (1994) .... Francesco Dellamorte
Strelyayushchiye angely (1993)
Inside Monkey Zetterland (1992) .... Sasha
The Comfort of Strangers (1990) .... Colin
Tolérance (1989) .... Assuerus, aka Horace Walop
Hearts of Fire (1987) .... James Colt
Gli Occhiali d'oro (1987) .... David Lattes
The Right Hand Man (1987) .... Lord Harry Ironminster
Cronaca di una morte annunciata (1987) .... Bayardo San Roman
Duet for One (1986) .... Constantine Kassanis
Dance with a Stranger (1985) .... David Blakeley
Another Country (1984) .... Guy Bennett
Real Life (1983) .... Tim
Dead On Time (1982)
A Shocking Accident (1982) .... Jerome Weathersby
________________________________________
TELEVISION
Les Liaisons dangereuses (2003) (mini) .... Vicomte de Valmont
Arthur the King (1985) .... Lancelot
The Far Pavilions (1984) (mini) .... George Garforth
Princess Daisy (1983) .... Ram Valenski
Soft Targets (1982)
The Manhood of Edward Robinson, (1981) .... Guy
________________________________________
WEBSITES
________________________________________
BACK TO PRINCES
________________________________________
ABOUT - QUEENS - KINGS - PRINCES - PRINCESSES
KNIGHTS - LADIES - COURT ROLL - GOSSIP
STORIES - LINKS - COPYRIGHT - CONTACT