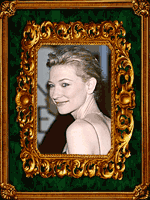 Cate Blanchett was born on 14 May 1969 in Melbourne, Victoria, Australia. She attended Methodist Ladies College (MLC) in Melbourne, Australia and was the School Drama Captain.
She graduated from Australia's National Institute of Dramatic Art (NIDA) in 1992 and joined the Sydney Theatre Company's production of Caryl Churchill's 'Top Girls', going on to play "Felice Bauer" in Timothy Daly's 'Kafka Dances', winning the 1993 Newcomer Award from the Sydney Theatre Critics Circle for her performance.

From there she played the role of "Carol" in David Mamet's 'Oleanna', also for the Sydney Theatre Company, and won the Rosemont Best Actress Award, her second award that year.

She then co-starred in the ABC Television's prime time drama 'Heartland' in 1994. In 1995, she was nominated for Best Female Performance for her role as "Ophelia" in 'Hamlet'. She returned to television as "Bianca" in ABC's 'Bordertown' in 1995, followed by the role of "Janie Morris" in 'G.P.'.

She feature film debut was in the Australian/UK movie 'Paradise Road' (1997). Her next film brought her fully to the world's attention as the title character in 'Elizabeth' in 1998, and won her the Golden Globe for Best Actress in a Drama. Cate was also nominated for an Academy Award for the role.

The role that firmly established her as a star was as the Elf Queen "Galadriel" in Peter Jackson's 'Lord Of The Rings' trilogy. A role she admitted she had accepted because she always wanted to appear in a movie wearing pointed ears.
________________________________________
FILM
The Aviator (2004) .... Katharine Hepburn
The Lord of the Rings: The Return of the King (2003) .... Galadriel
The Missing (2003) .... Maggie Gilkeson
Veronica Guerin (2003) .... Veronica Guerin
The Fountain (2004)
The Lord of the Rings: The Two Towers (2002) .... Galadriel
Heaven (2002) .... Philippa
The Shipping News (2001) .... Petal Bear
Charlotte Gray (2001) .... Charlotte Gray
The Lord of the Rings: The Fellowship of the Ring (2001) .... Galadriel
Bandits (2001) .... Kate Wheeler
Gift, The (2000) .... Annabelle 'Annie' Wilson
The Man Who Cried (2000) .... Lola
Bangers (1999) .... Julie-Anne
The Talented Mr. Ripley (1999) .... Meredith Logue
Pushing Tin (1999) .... Connie Falzone
An Ideal Husband (1999) .... Lady Gertrude Chiltern
Elizabeth (1998) .... Elizabeth I
Oscar and Lucinda (1997) .... Lucinda Leplastrier
Thank God He Met Lizzie (1997) .... Lizzie
Paradise Road (1997) .... Susan Macarthy
Parklands (1996) .... Rosie
Police Rescue (1994) .... Vivian
________________________________________
TELEVISION
"Bordertown" (1995) (mini) .... Bianca
"Heartland" (1994) (mini) .... Elizabeth Ashton
________________________________________
WEBSITES

Cate Blanchett sites at Celebrity Link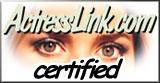 Cate Blanchett sites at ActressLink.com
________________________________________
BACK TO PRINCESSES
________________________________________
ABOUT - QUEENS - KINGS - PRINCES - PRINCESSES
KNIGHTS - LADIES - COURT ROLL - GOSSIP
STORIES - LINKS - COPYRIGHT - CONTACT