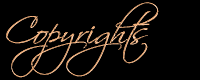 All contents of this site © Annie Taylor 2003 (unless otherwise specified). All Rights Reserved.
It is the intent of the Kinlochaline Castle web site to promote the viewing, listening, discussion, and appreciation of the featured actors and actresses worldwide and related topics across a broad spectrum.
All written content copyright Annie Taylor © 2003 unless stated otherwise. If Annie Taylor is not the author of the said written content, the original source has been credited.
All graphics used in the theme of this site created by Annie Taylor © 2003.
All content used on this site, not hereto credited to the copyright of Annie Taylor, is used under the Fair Use clause of the International Copyright Act. All copyrights remain with the original copyright holder.
Any inquiries about this site and it's contents, please use the contact form.
________________________________________
ABOUT - QUEENS - KINGS - PRINCES - PRINCESSES
KNIGHTS - LADIES - COURT ROLL - GOSSIP
STORIES - LINKS - COPYRIGHT - CONTACT