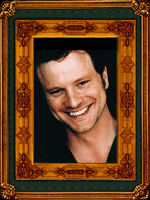 Colin Firth spent his early childhood in Nigeria, returning to England at age five. His first professional role was as "Guy Bennet" in the West End production of 'Another Country'. From this performance he was chosen to play the character of "Judd" in the movie of the play, with Rupert Everett (who had also played "Bennet" in another production).
Colin went on to play a variety of character parts in both film and television. His strong and consistant work culminated in earning him the Royal Television Society Best Actor award and a BAFTA nomination for his portrayal of Robert Lawrence in the 1989 TV production 'Tumbledown'. His next BAFTA nomination came for his celebrated portrayl of "Mr. Darcy" in the 1995 BBC mini-series, 'Pride and Prejudice'.
His stiff-necked, repressed, yet passionate "Mr Darcy" in 'Pride and Prejudice' made him one of the most popular and desirable British actors around. He became an instant sex symbol in his native Britain, almost overnight, with women all over the country demanding to know who this tall, dark stranger was and to see more of him.
Numerous film and television roles followed, including 'The English Patient', 'Fever Pitch', 'Shakespeare In Love' (again with Rupert Everett), 'Bridget Jones's Diary', 'The Importance of Being Earnest' (again with Rupert Everett) and 'Love Actually' (with Alan Rickman and Emma Thompson).
While playing many contemporary roles in film, Colin is considered the quintessential period drama actor, as evidenced by his many film and television credits. Even his contemporary characters sometimes carry names that hark back to Jane Austin and tight bodices - "Henry Dashwood" in 'What a Girl Wants', shares the same surname as one of the families in 'Sense and Sensibility', and "Mark Darcy" in 'Brigit Jones's Diary' was a deliberate reference by writer Helen Fielding to the role that launched Colin into a nation's consciousness - that of "Mr Fitzwilliam Darcy" in 'Pride and Prejudice'. If you watch the films closely, you'll see the two characters are even of the same mold and disposition.
He is quoted as saying about the two Darcy roles: "I was delighted to become a popular-culture reference point. I'm still delighted about it actually, and I still find it to be weird."
________________________________________
FILM
Trauma (2004) .... Ben
Girl with a Pearl Earring (2003) .... Johannes Vermeer
Love Actually (2003) .... Jamie
What a Girl Wants (2003) .... Henry Dashwood
Hope Springs (2003) .... Colin Ware
The Importance of Being Earnest (2002) .... Jack
Bridget Jones's Diary (2001) .... Mark Darcy
Londinium (2000) .... Allen Portland
Relative Values (2000) .... Peter Ingleton
Blackadder Back & Forth (1999) .... William Shakespeare
The Secret Laughter of Women (1999) .... Matthew Field
My Life So Far (1999) .... Edward
Shakespeare in Love (1998) .... Lord Wessex
A Thousand Acres (1997) .... Jess Clark
Fever Pitch (1997) .... Paul Ashworth
The English Patient (1996) .... Geoffrey Clifton
Circle of Friends (1995) .... Simon Westward
Playmaker (1994) .... Ross Talbert/Michael Condren
The Hour of the Pig (1993) .... Richard Courtois
Out of the Blue (1991) .... Alan
Femme Fatale (1991) .... Joseph Prince
Wings of Fame (1990) .... Brian Smith
Valmont (1989) .... Valmont
Apartment Zero (1988) .... Adrian LeDuc
A Month in the Country (1987) .... Tom Birkin
Dutch Girls (1985) .... Neil Truelove
1919 (1985) .... Young Alexander
Another Country (1984) .... Tommy Judd
________________________________________
TELEVISION
Conspiracy (2001) .... Dr. Wilhelm Stuckart
Donovan Quick (1999) .... Donovan Quick
The Turn of the Screw (1999) .... The Master
Nostromo (1996) (mini) .... Charles Gould
Widowing of Mrs. Holroyd, The (1995) .... Charles Holroyd
Pride and Prejudice (1995) (mini) .... Fitzwilliam Darcy
The Deep Blue Sea (1994) .... Freddie Page
Master of the Moor (1994) .... Stephen Whalby
Hostages (1993) .... John McCarthy
Tumbledown (1989) .... Robert Lawrence
Tales from the Hollywood Hills: Pat Hobby Teamed with Genius (1987) .... Rene Wilcox
The Secret Garden (1987) .... Adult Colin Craven
Lost Empires (1986) (mini) .... Richard Herncastle
Camille (1984) .... Armand Duval
________________________________________
THEATRE
"Three Days of Rain" - The Donmar Warehouse. London, UK. 1999 - 2000.
"Chatsky" - The Almedia, London, UK. 1993.
"The Caretaker" - Comedy Theatre, London, UK. 1991.
"Desire Under the Elms" - Greenwich Theatre, London, UK. 1987.
"The Lonely Road" - The Old Vic, London, UK. 1985.
"The Doctor's Dilemma" - Churchill Theatre, Bromley, Kent, UK. 1984.
"Another Country" - Queens Theatre, London, UK. 1981.
________________________________________
WEBSITES
________________________________________
BACK TO PRINCES
________________________________________
ABOUT - QUEENS - KINGS - PRINCES - PRINCESSES
KNIGHTS - LADIES - COURT ROLL - GOSSIP
STORIES - LINKS - COPYRIGHT - CONTACT