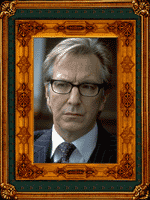 Alan Rickman was born to Irish and Welsh parents on February 21, 1946 in Hammersmith, London.
He attended the the Royal College of Art, from which he graduated and made his living as a graphic artist in Soho.
At age 26 he won a scholarship to the Royal Academy of Dramatic Art (RADA) where he spent 3 years. While there, he won the Emile Litter Prize, the Forbes Robertson Prize, and the Bancroft Gold Medal.
He began his acting career appearing in various British repertory and experimental theater productions including 'The Seagull' and 'The Grass Widow' at the Royal Court, as well as appearing three times at the Edinburgh International Festival.
While working with the Royal Shakespeare Company he starred in 'Les Liaisons Dangereuses' as "Le Vicomte de Valmont", which won him critical and popular acclaim. When the show came to Broadway in 1986, Alan reprised the role and earned a Tony nomination for his performance.
It was directly due to his performance as "de Valmont" that Joel Silver approached him for the role of "Hans Gruber" in the original 'Die Hard' film. Alan's unique interpretation of the role garnered worldwide attention and set a new standard for screen bad guys.
This role was followed by another, totally different bad guy - that of "The Sherrif of Nottingham" in Kevin Costner's "Robin Hood, Prince of Theives", where Alan's performance was so strong, it is rumoured that many of his scenes were cut from the final film to stop him outshining Costner.
Many more and diverse film roles followed, including 'An Awfully Big Adventure', 'Truly, Madly, Deeply', 'Dogma', 'Judas Kiss', 'Sense and Sensibility' (which also starred Kate Winslet and Emma Thompson) and 'Mesma'. It is rumoured that Alan does not like to play the same kind of role twice - hence his varied choices in film parts.
He made his theatre direction debut with 'The Winter Guest' in London in 1995, followed by his screen directing debut (and screenwriting debut) with the film version of the play in 1996, where he directed long-time friend and collegue, Emma Thompson, and then newcomer, Sean Biggerstaff ("Oliver Wood" in the Harry Potter series of films).
He was offered the role of "Serveus Snape" in 'Harry Potter and the Socerer's Stone', after Tim Roth fortuitously turned it down. Alan has gone on to win an entirely new generation of fans playing the sneering, sharp-tongued Professor, and will appear again in the role in the third 'Harry Potter' installment in late 2004.
Alan managed to fit in a return to his first love, the theatre, appearing on the West End and Broadway in the critically acclaimed 'Private Lives' in 2002, for which he won a Tony Award.
________________________________________
FILM
Harry Potter and the Prisoner of Azkaban (2004) .... Professor Snape
Love Actually (2003) .... Harry
Standing Room Only (2002)
Harry Potter and the Chamber of Secrets (2002) .... Professor Snape
The Search for John Gissing (2001) .... John Gissing
Harry Potter and the Sorcerer's Stone (2001) .... Professor Snape
Blow Dry (2001) .... Phil Allen
Play (2000) .... Man
Hjælp, jeg er en fisk (2000) (voice) .... Joe
Galaxy Quest (1999) .... Alexander Dane/Dr. Lazarus
Dogma (1999) .... Metatron
Dark Harbor (1998) .... David Weinberg
Judas Kiss (1998) .... Detective David Friedman
The Winter Guest (1997) (uncredited) .... Man in street
Michael Collins (1996) .... Eamon de Valera
Sense and Sensibility (1995) .... Colonel Brandon
An Awfully Big Adventure (1995) .... P.L. O'Hara
Mesmer (1994) .... Franz Anton Mesmer
Bob Roberts (1992) .... Lukas Hart III
Close My Eyes (1991) .... Sinclair
Robin Hood: Prince of Thieves (1991) .... George (sheriff of Nottingham)
Truly Madly Deeply (1991) .... Jamie
Closet Land (1991) .... Interrogator
Quigley Down Under (1990) .... Elliott Marston, Owner Marston Waters Ranch
January Man (1989) .... Ed
Die Hard (1988) .... Hans Gruber
________________________________________
TELEVISION
We Know Where You Live (2001)) .... Yorkshireman
Rasputin (1996) .... Grigori Rasputin
Fallen Angels (1993) .... Dwight Billings
Revolutionary Witness (1989) .... Jacques Roux
Spirit of Man (1989) .... Israel Yates
The Barchester Chronicles (1984) (mini) .... Rev. Obadiah Slope
Smiley's People (1982) (mini) .... Brownlow
Thérèse Raquin (1980) (mini) .... Vidal
Romeo and Juliet (1978) .... Tybalt
________________________________________
THEATRE
Private Lives as "Elyot" (West End and Broadway) (2002)
Antony and Cleopatra (Royal National Theatre) as "Marc Antony" (1998) (opposite Helen Mirren)
Les Liaisons Dangereuses as "Le Vicomte de Valmont" (West End and Broadway) (1996)
________________________________________
WEBSITES
________________________________________
BACK TO KINGS
________________________________________
ABOUT - QUEENS - KINGS - PRINCES - PRINCESSES
KNIGHTS - LADIES - COURT ROLL - GOSSIP
STORIES - LINKS - COPYRIGHT - CONTACT