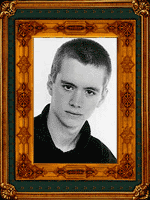 Sean Biggerstaff was born on March 15, 1983 in Glasgow, Scotland, UK. He joined his local drama group, the Maryhill Youth Theater at age seven, going on to play roles in 'Augustus Gloop' and 'Charlie and the Chocolate Factory'.
Sean's first professional role was in 'Macbeth', as the son of MacDuff at the Tron Theatre in Glasgow when he was ten years old. He then joined the Scottish Youth Theatre, where he spent six years performing and exploring his craft.
It was there that Alan Rickman saw him while casting the film version of 'The Winter Guest'. Alan offered Sean the role of "Tom", which Sean happily accepted. A couple of years later, Alan lined up a meeting for Sean with a prominent London agent - which led to Sean landing representation at ICM. A week later, he auditioned for the role of "Oliver Wood" (Captain of the Gryffindor Quidditch team) in 'Harry Potter and the Sorcerer's Stone', and the rest, as they say, is history.
________________________________________
FILM
Harry Potter and the Chamber of Secrets (2002) .... Oliver Wood
Harry Potter and the Sorcerer's Stone (2001) .... Gryffindor Captain Oliver Wood
The Winter Guest (1997) .... Tom
________________________________________
TELEVISION
The Crow Road (1996) (mini) .... Young Darren
________________________________________
WEBSITES
________________________________________
BACK TO KNIGHTS
________________________________________
ABOUT - QUEENS - KINGS - PRINCES - PRINCESSES
KNIGHTS - LADIES - COURT ROLL - GOSSIP
STORIES - LINKS - COPYRIGHT - CONTACT