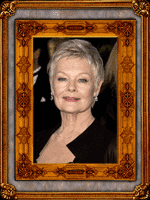 Judi Dench's first stage appearance was as a snail in a play at her Quaker junior school. From such unusual beginnings, she went on to study her craft at the Central School of Speech and Drama. On stage, she has performed with Royal Shakespeare Company, the National Theatre, and at Old Vic Theatre.
She is a five-time BAFTA winner including Best Actress in a Comedy Series for "A Fine Romance" (1981) in which she appeared with her husband, Michael Williams, and Best Supporting Actress in "A Handful of Dust" (1988) and "A Room with a View" (1986) (which also starred Dame Maggie Smith). She received an ACE award for her performance in the television series "Mr. and Mrs. Edgehill". She was awarded the Order of the British Empire in 1970, and was created Dame of the British Empire in 1988.
A highly awarded actress, Dame Judi made history in 1996 as the first person to win two Olivier awards (for British theatre) for different roles. She also possibly holds the record for the shortest performance to win an Oscar when she won Best Supporting Actress at the 1999 Oscar ceremony for an 8 minute performance in Shakespeare in Love (1998) as Queen Victoria (which also starred Colin Firth).
One to create many "firsts", Dame Judi created the role of Sally Bowles in the London premiere of the musical, Cabaret, and was to play "Grizabella" in the original "CATS" West End production, but an ailment forced her out of the play. Elaine Paige replaced her. She won the 1999 Tony Award as Best Actress in a Play for her work in "Amy's View". She also provided the voice of the Giantess in the new Broadway production of "Into The Woods" (2002).
In October 2002, she played Frances Beale in "The Breath of Life" by David Hare at the Theater Royal, Haymarket, London, England, UK. Among her honours from academic institutions is an honorary DLitt from Oxford University, awarded on 28 June 2000.
Notorious for her extreme lack of ego, a well known story goes something like this: When Royal Shakespeare Company Director Peter Hall asked Judi Dench to play the title role in a staged, and then later televised, production of Cleopatra, Dench refused, saying that her Cleopatra would be a "menopausal dwarf." Peter Hall was later successful in coaxing Dench into the role, of which she won rave reviews from both theatre critics and television audiences.
________________________________________
FILM
The Chronicles of Riddick (2004) .... Aeron
Home on the Range (2004) (voice)
Die Another Day (2002) .... M
The Importance of Being Earnest (2002) .... Lady Bracknell
The Shipping News (2001) .... Agnis Hamm
Iris (2001) .... Iris Murdoch
Chocolat (2000) .... Armande Voizin
The World Is Not Enough (1999) .... M
Tea with Mussolini (1999) .... Arabella
Shakespeare in Love (1998) .... Queen Elizabeth I
Tomorrow Never Dies (1997) .... M
Mrs. Brown (1997) .... Queen Victoria
Hamlet (1996) .... Hecuba (long version)
GoldenEye (1995) .... M
Jack and Sarah (1995) .... Margaret
Henry V (1989) .... Mistress Quickly
A Handful of Dust (1988) .... Mrs. Beaver
84 Charing Cross Road (1986) .... Nora Doel
A Room with a View (1986) .... Eleanor Lavish, a novelist
The Angelic Conversation (1985) .... Narrator
Wetherby (1985) .... Marcia Pilborough
Dead Cert (1974) .... Laura Davidson
Luther (1973) .... Katherine
A Midsummer Night's Dream (1968) .... Titania
He Who Rides a Tiger (1965) .... Joanne
A Study in Terror (1965) .... Sally
Four in the Morning (1965) .... Wife
The Third Secret (1964) (uncredited) .... Miss Humphries
________________________________________
TELEVISION
Angelina Ballerina (2001) (voice) .... Miss Lilly
The Last of the Blonde Bombshells (2000) .... Elizabeth
Hey, Mr Producer! The Musical World of Cameron Mackintosh (1998) .... Desiree (segment "Send In The Clowns")
Middlemarch (1994) (mini) .... Voice of George Eliot
The Torch (1992) (mini) .... Aba
As Time Goes By (1992) .... Jean Mary Pargetter / Hardcastle
Absolute Hell (1991) .... Christine Foskett
Can You Hear Me Thinking? (1990) .... Anne
Behaving Badly (1988) .... Bridget
Ghosts (1986) .... Mrs. Alving
The Browning Version (1985) .... Millie Crocker-Harris
Mr. and Mrs. Edgehill (1985) .... Dorrie Edgehill
Saigon: Year of the Cat (1983) .... Barbara Dean
A Fine Romance (1981) .... Laura Dalton
Love in a Cold Climate (1980) (mini) .... Aunt Sadie (Lady Alconleigh)
Macbeth (1979) .... Lady Macbeth
On Giant's Shoulders (1979) .... Hazel Wiles
The Comedy of Errors (1978) .... Adriana
Langrishe Go Down (1978) .... Imogen Langrishe
Days to Come (1966) .... Elizebeth
Talking to a Stranger (1966)
________________________________________
WEBSITES


Judi Dench sites at Celebrity Link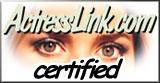 Judi Dench sites at ActressLink.com
________________________________________
BACK TO QUEENS
________________________________________
ABOUT - QUEENS - KINGS - PRINCES - PRINCESSES
KNIGHTS - LADIES - COURT ROLL - GOSSIP
STORIES - LINKS - COPYRIGHT - CONTACT