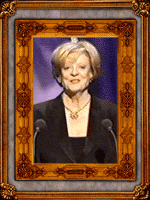 Maggie Smith was born on 28 December 1934 in Ilford, Essex, England, UK. She would go on to have a long and distinguished career on both stage and screen, that has spanned a dizzingly-wide range of characters and two generations of audiences.
Trained at the Oxford Playhouse School, Dame Maggie made her stage debut in 1952 and her first film, 'Nowhere to Go' in 1958. She first came to the attention of American moviegoers in 'The V.I.P.s' in 1963, and her "Desdemona" in Laurence Olivier's 1965 movie, 'Othello', earned her an Oscar nomination for Best Supporting Actress.
Her impressive performance as an eccentric schoolmistress in 'The Prime of Miss Jean Brodie' in 1969 finally won her the Oscar and established her worldwide as a star.
Another Best Actress nomination followed for her role in 'Travels With My Aunt' in 1972, and she won her second Oscar playing an actress who's nominated for an Oscar but loses in Neil Simon's 'California Suite' in 1978. Another Oscar nomination arrived for her beautiful work in Merchant & Ivory's 'Room With a View' in 1986 (which also starred Dame Judi Dench).
Many other film and stage roles followed, and in 1970, Dame Maggie was appointed a CBE, followed by a DBE (Dame Commander of the Most Excellent Order of the British Empire) in 1990 for her prodigious dramatic accomplishments.
A new generation discovered her talent via her charming, elderly "Wendy" in 'Hook' in 1991, and her role as a very straight-laced "Mother Superior" in 'Sister Act' and 'Sister Act II'. But it is the 'Harry Potter' series of films with her in the role of "Professor Minerva McGonagall" (which also stars Alan Rickman and Sean Biggerstaff) that has firmly won her a legion of new and devoted fans in children and adults everywhere.
________________________________________
FILM
Harry Potter and the Prisoner of Azkaban (2004) .... Professor McGonagall
Harry Potter and the Chamber of Secrets (2002) .... Professor McGonagall
Divine Secrets of the Ya-Ya Sisterhood (2002) .... Caro Eliza Bennett
Gosford Park (2001) .... Constance
Harry Potter and the Sorcerer's Stone (2001) .... Professor McGonagall
Curtain Call (1999) .... Lily Marlowe
The Last September (1999) .... Lady Myra
Tea with Mussolini (1999) .... Lady Hester Random
Washington Square (1997) .... Aunt Lavinia Penniman
The First Wives Club (1996) .... Gunilla Garson Goldberg
Richard III (1995) .... Duchess of York
Sister Act 2: Back in the Habit (1993) .... Mother Superior
The Secret Garden (1993) .... Mrs. Medlock
Sister Act (1992) .... Mother Superior (Rev. Mother)
Hook (1991) .... Granny Wendy/Middle-Aged Wendy
Romeo-Juliet (1990) (voice) .... Rozaline
The Lonely Passion of Judith Hearne (1987) .... Judith Hearne
A Room with a View (1986) .... Charlotte Bartlett, a chaperon
A Játszani kell (1985) .... Lily Wynn
A Private Function (1984) .... Joyce Chilvers
Better Late Than Never (1982) .... Miss Anderson
The Missionary (1982) .... Lady Isabel Ames
Evil Under the Sun (1982) .... Daphne Castle
Quartet (1981) .... Lois Heidler
Clash of the Titans (1981) .... Thetis
California Suite (1978) .... Diana Barrie
Death on the Nile (1978) .... Miss Bowers
Murder by Death (1976) .... Mrs. Dora Chaleston
Love and Pain and the Whole Damn Thing (1972) .... Lila Fisher
Travels with My Aunt (1972) .... Aunt Augusta
Oh! What a Lovely War (1969) .... Music Hall Star
The Prime of Miss Jean Brodie (1969) .... Jean Brodie
Hot Millions (1968) .... Patty Terwilliger
The Honey Pot (1967) .... Sarah Watkins
Othello (1965) .... Desdemona
Young Cassidy (1965) .... Nora
The Pumpkin Eater (1964) .... Philpott
The V.I.P.s (1963) .... Miss Mead
Go to Blazes (1962) .... Chantal
Nowhere to Go (1958) .... Bridget Howard
Child in the House (1956) (uncredited) .... Party Guest
________________________________________
TELEVISION
My House in Umbria (2003) .... Mrs. Emily Delahunty
David Copperfield (1999) .... Betsey Trotwood
All the King's Men (1999) .... Queen Alexandra
Tennessee Williams: Orpheus of the American Stage (1994) (archive footage) .... Violet Venable
Suddenly, Last Summer (1993) .... Violet Venable
Memento Mori (1992) .... Mrs. Mabel Pettigrew
Talking Heads (1987) (mini) .... Susan
The Millionairess (1972)
The Merchant of Venice (1972) .... Portia
The Seagull (1968) .... Irina Arkadina
Man and Superman (1968)
Much Ado About Nothing (1967) .... Beatrice
________________________________________
THEATRE
Three Tall Women (West End)
________________________________________
WEBSITES
________________________________________
BACK TO QUEENS
________________________________________
ABOUT - QUEENS - KINGS - PRINCES - PRINCESSES
KNIGHTS - LADIES - COURT ROLL - GOSSIP
STORIES - LINKS - COPYRIGHT - CONTACT