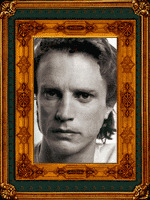 Jonathan Firth was born on 6 April 1967 in Essex, England, UK. With older brother Colin Firth, and sister Kate Firth (a voice coach), he was obviously destined to become an actor.
He attended the Central School of Speech and Drama, London, graduating in 1989. Not long after he landed the role of "Linton Heathcliff" in the 1992 film version of 'Wuthering Heights', followed by "Richard Grey" in 'Covington Cross' that same year and "Romeo" in the television version of 'Romeo & Juliet' in 1994.
He almost immediately landed the role of "Fred Vincy" in the celebrated British mini-series 'Middlemarch', which brought him attention beyond being Colin Firth's younger brother. Jonathan went on to play "Sergeant Troy" in the 1998 remake of 'Far from the Madding Crowd', before taking the role of "Prince Albert" in A & E's production of 'Victoria & Albert' in 2001, opposite Sir Nigel Hawthorne.
He has since played roles in 'The Inspector Lynley Mysteries' and 'Bait' in 2002, and recently completed the film 'Luther' in 2003.
________________________________________
FILM
Luther (2003) .... Girolamo Aleandro
Six-Pack (2000) .... Blade
An Ideal Husband (1998) .... Lord Arthur Goring
Covington Cross (1992) .... Richard Grey
Wuthering Heights (1992) .... Linton Heathcliff
American Friends (1991) .... Cable
________________________________________
TELEVISION
Pompeii: The Last Day (2003) .... Stephanus
Bait (2002) .... Vincent White
The Inspector Lynley Mysteries: Payment in Blood (2002) .... Rhys Davies Jones
Victoria & Albert (2001) .... Prince Albert of Saxe-Coburg-Gotha
In the Beginning (2000) (mini) .... Joshua
A Likeness In Stone (2000) .... Stephen Gilmore
Relic Hunter (2000) .... Eric Dalt
The Magical Legend of the Leprechauns (1999) .... Count Grogan
Heat of the Sun (1999) (mini) .... Captain Charles Keaton
Far from the Madding Crowd (1998) .... Sergeant Troy
Midsomer Murders (1997) .... Michael Lacey
Highlander (1997) .... Lord Byron
Kangaroo Palace (1997) .... Terence Foster-Burrowes
Tales from the Crypt (1996)
Hickory Dickory Dock (1995) .... Nigel Chapman
A Breed of Heroes (1994) .... LCpl. Winn
Middlemarch (1994) (mini) .... Fred Vincy
Romeo & Juliet (1994) .... Romeo
Cadfael (1994) .... "Joscelin"
Inspector Morse (1992) .... Peter Thornton
The Black Velvet Gown (1991) .... Paul Gallmington
________________________________________
THEATRE
Henry VI .... Henry VI (Other Place production at Stratford upon Avon) (1994)
________________________________________
WEBSITES
________________________________________
BACK TO KNIGHTS
________________________________________
ABOUT - QUEENS - KINGS - PRINCES - PRINCESSES
KNIGHTS - LADIES - COURT ROLL - GOSSIP
STORIES - LINKS - COPYRIGHT - CONTACT