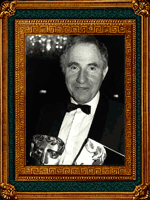 Nigel Hawthorne was born in Coventry, England on 5 April 1929. Raised in South Africa, he returned to the UK in the 1950s to pursue a career in theatre. His initial foray into the British scene was not successful, and he returned to South Africa, deciding to give up his dream of being an actor.
The acting bug however, did not leave him, and after some successful appearances in the South African theatre scene, he returned to the UK in the early 1960's.
Extensive theatre work in Britain followed, including his Clarence Derwent and SWET Award-winning performance in "Privates on Parade". His impressive television debut in the 1980's as Sir Humphrey Appleby in the BBC comedy "Yes [Prime] Minister" won him two BAFTA Awards and international acclaim, and in 1987, Queen Elizabeth II honored him with the CBE (Commander of the British Empire) title. He was now in his early fifties.
In 1992 he won the Olivier Award for his George III in Alan Bennett's hit stage play "The Madness of George III". The film "The Madness of King George", again with him in the title role, won him an Oscar nomination, a BAFTA Award and the world's attention.
Many roles in film followed, including Richard III (1995), Twelfth Night: Or What You Will (1996), The Winslow Boy (1999), Amistad (1997), Object of My Affection, The (1998), At Sachem Farm (1998) and Madeline (1998)
Named in the 1999 Queen's New Year List, Sir Nigel Hawthorne was also the Honorary Patron of independent film production company, Salmac Productions, run by Australian actress, Sally McLean.
Living quietly in a 15th-century manor house with his partner, writer Trevor Bentham, in 2000 he contracted cancer of the pancreas. He went into remission and straight back to work, but sadly the cancer returned in 2001.
Sir Nigel passed away on 26 December, 2001 from a heart attack.
________________________________________
FILM
The Clandestine Marriage (1999) .... Lord Ogleby
A Reasonable Man (1999) .... Judge Wendon
Tarzan (1999) (voice) .... Porter
The Big Brass Ring (1999) .... Kim Mennaker
The Winslow Boy (1999) .... Arthur Winslow
At Sachem Farm (1998) .... Uncle Cullen
Madeline (1998) .... Lord Covington (segment "Lord Cucuface")
The Object of My Affection (1998) .... Rodney Fraser
Amistad (1997) .... Martin Van Buren
Murder in Mind (1997) .... Dr. Ellis
Twelfth Night: Or What You Will (1996) .... Malvolio
Richard III (1995) .... George, Duke of Clarence
The Madness of King George (1994) .... George III
Demolition Man (1993) .... Dr. Raymond Cocteau
Freddie as F.R.O.7 (1992) (voice) .... Brigadier G
Relatively Speaking (1990) .... Philip Carter
En Håndfull tid (1989) .... Ted Walker
King of the Wind (1989) .... Achmet
Rarg (1988)
Turtle Diary (1985) .... The Publisher
The Black Cauldron (1985) (voice) .... Fflewddur Fflam
The Chain (1984) .... Mr. Thorn
Dead On Time (1982)
The World Cup: A Captain's Tale (1982)
Gandhi (1982) .... Kinnoch
The Plague Dogs (1982) (voice) .... Dr. Robert Boycott
Firefox (1982) .... Pyotr Baranovich
The Knowledge (1981) .... Mister Burgess
Memoirs of a Survivor (1981) .... Victorian Father
History of the World: Part I (1981) .... Citizen Official
The Sailor's Return (1978) .... Mr. Fosse
Sweeney 2 (1978) .... Dilke
Watership Down (1978) (voice) .... Campion
Decisions, Decisions (1975) (V)
The Hiding Place (1975) .... Pastor De Ruiter
S*P*Y*S (1974) .... Croft
Young Winston (1972) (uncredited) .... Boer Sentry
________________________________________
TELEVISION
Call Me Claus (2001) .... Nick
Victoria & Albert (2001) .... Lord William Lamb, 2nd Viscount Melbourne
The 100 Greatest TV Characters (2001) .... Sir Humphrey Appleby
Forbidden Territory: Stanley's Search for Livingstone (1997) .... David Livingstone
The Fragile Heart (1996) .... Edgar Pascoe
Inside (1996) .... Colonel Kruger
Flea Bites (1991) .... Kryst
The Trials of Oz (1991) .... Brian Leary
Spirit of Man (1989) .... Rev. Jonathan Guerdon
Yes, Prime Minister (1986) .... Sir Humphrey Appleby
Jenny's War (1985) .... Colonel
Mapp & Lucia (1985) .... Georgie Pillson
The Barchester Chronicles (1984) (mini) .... Archdeacon Grantly
The House (1984)
Pope John Paul II (1984) .... Cardinal Stefan Wyszynski
The Tartuffe or Imposter (1983).... Orgon
The Critic (1982)
A Woman Called Golda (1982) .... King Abdullah
The Hunchback of Notre Dame (1982) .... Magistrate
A Brush with Mr. Porter on the Road to Eldorado (1981)
Jessie (1980) .... Mr. Edmonds
A Tale of Two Cities (1980) .... Mr. CJ Stryver
The Tempest (1980/I) .... Stephano
Yes, Minister (1980) .... Sir Humphrey Appleby
Edward & Mrs. Simpson (1980) (mini) .... Walter Monkton
Thomas and Sarah (1979) .... Wilson
Warrior Queen (1978) .... Catus Decianus
Holocaust (1978) (mini) .... Oldendorf
Destiny (1978)
Marie Curie (1977) (mini) .... Pierre Curie
Eleanor Marx: Eleanor (1977)
Eleanor Marx: Tussy (1977)
The Floater (1975)
Alma Mater (1971)
________________________________________
THEATRE
C.S Lewis in "Shadowlands" (Broadway and London)
Lear in "King Lear"(London 1999)
________________________________________
WEBSITE
________________________________________
BACK TO KINGS
________________________________________
ABOUT - QUEENS - KINGS - PRINCES - PRINCESSES
KNIGHTS - LADIES - COURT ROLL - GOSSIP
STORIES - LINKS - COPYRIGHT - CONTACT