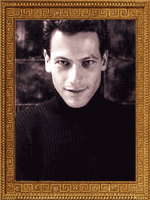 Ioan Gruffudd was born on October 6, 1973 in Cardiff, Wales, UK. His first professional job came at age fourteen as "Gareth Wyn Harries" in the Welsh soap opera, 'Pobol Y Cwm' ('People of the Valley'), which he appeared in for five years.
He left at eighteen to train at The Royal Academy of Dramatic Art (RADA) in London, graduating in 1995. His first major role followed a few months later as "Jeremy Poldark" in the 1996 film remake of the popular British mini-series 'Poldark'. He went on to play "John Grey" in 'Wilde', but the role that surprisingly brought him the most attention was the small part of "Fifth Officer Lowe" in the Hollywood blockbuster 'Titanic' with Kate Winslet. "Lowe" was the only officer from the ship to go back and rescue survivors - marking a moral trend in the roles to come.
In 1998, he won the title role in the 'Horatio Hornblower' series of films for A&E opposite Robert Lindsay and Jamie Bamber. This fully launched him onto the world stage. Various lead roles followed including "Solomon" in the 1998 film 'Solomon and Gaenor', "Pip" in the 1999 mini-series 'Great Expectations' and "Lt. John Feeley" in the 1999 BBC film 'Warriors'. He made a lukewarm return to Hollywood in "102 Dalmations" - lukewarm, not because of his performance, rather because of some of the human performances around him and the film as a whole.
Fortunately, 'Hornblower' called once more and he has made eight 'Hornblower' movies to date (with a rumoured three more to come). He has been recently announced in the role of "Lancelot" in Jerry Bruckhiemer's 'Arthur' (another remake of the King Arthur legend), where it is thought he will be playing the Knight as a Russian. Interesting for a boy from Wales, playing a role in what is considered a Welsh legend ... only time will tell how well this surprising (and unsubstantiated) deviation from the original story is received by his fellow Welshmen!
He has been quoted as saying about his unusual name: "I'm determined not to lose my name. It's who I am. It has neither aided my progress nor hampered it. It's just who I am. My character. . . My make-up. My culture and heritage is a very rich one. So what if it's difficult for people to pronounce? We all learned how to say Schwarzenegger."
________________________________________
FILM
This Girl's Life (2003) .... Daniel
The Gathering (2002) .... Dan
Black Hawk Down (2001) .... John Beales
Happy Now (2001) .... Max Bracchi
Very Annie Mary (2001) .... Hob
Another Life (2001) .... Freddy Bywaters
102 Dalmatians (2000) .... Kevin Sheperd
Shooters (2000) .... Freddy Guns
Solomon and Gaenor (1999) .... Solomon Levinsky
Titanic (1997) .... Fifth Officer Harold Godfrey Lowe
Wilde (1997) .... John Gray
________________________________________
TELEVISION
Hornblower: Duty (2003) .... Horatio Hornblower
Hornblower: Loyalty (2003) .... Commander Horatio Hornblower
The Forsyte Saga (2002) (mini) .... Phillip Bosinney
Man and Boy (2002) .... Harry Silver
Hornblower: Retribution (2001) .... 3rd Lt. Horatio Hornblower
Hornblower: Mutiny (2001) .... 3rd Lt. Horatio Hornblower
The Miracle Maker (2000) .... Voice of Jesus (Welsh title: Gwr y Gwyrthiau)
Warriors (1999) .... Lt. John Feeley
Love in the 21st Century (1999) .... Jack (episode "Masturbation")
Great Expectations (1999) .... Pip
Hornblower: The Frogs and the Lobsters (1999) .... Horatio
Hornblower: The Duchess and the Devil (1999) .... Hornblower
Hornblower: The Examination for Lieutenant (1998) .... Acting Lt. Horatio Hornblower
Hornblower: The Even Chance (1998) .... Midshipman Horatio Hornblower
Poldark (1996) .... Jeremy Poldark
A Mind to Kill (1996) .... Karl Stranger
A Relative Stranger (1995) .... Nigel Fraiman
Pobol y Cwm (1974) .... Gareth Wyn Harries (1987-1994)
________________________________________
WEBSITES

________________________________________
BACK TO KNIGHTS
________________________________________
ABOUT - QUEENS - KINGS - PRINCES - PRINCESSES
KNIGHTS - LADIES - COURT ROLL - GOSSIP
STORIES - LINKS - COPYRIGHT - CONTACT