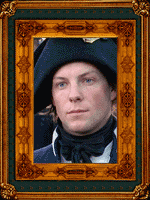 Jamie Bamber was born Jamie St John Bamber Griffith on April 3, 1973 in Hammersmith, London to American and Irish parents. He spent his formative years in France, where he attended a bilingual school until the age of eight, when the family moved back to England.
Jamie's stage debut was at his all-boys school, where he played the "Wicked Witch" in 'The Wizard of Oz'. He went on to attend St. Johns College, Cambridge University, where he received a first Class Honours Degree in Modern Languages (Italian and French).
In 1996, Jamie went to the London Academy of Dramatic Arts (LAMDA) where he completed a post graduate course. Once graduating, he immediately landed his first role - that of "Midshipman Archie Kennedy" in the hugely popular series 'Hornblower', opposite Ioan Gruffudd and Robert Lindsay.
Jamie's other television credits include 'The Scarlet Pimpernel', playing "Lord Tony Dewhurst" opposite Richard E. Grant, 'Poirot, the Murder of Roger Ackroyd', 'Lady Audley's Secret', 'Peak Practice', 'Band of Brothers' and the recent 'Battlestar Galactica' as Captain Lee "Apollo" Adama.
His foray into film came with the Scots film, 'Ghost Rig' (formally known as 'The Devil's Tattoo').
________________________________________
FILM
Ghost Rig (formally known as 'The Devil's Tattoo') (2001) .... Tom
________________________________________
TELEVISION
Ultimate Force II (2003) (mini) .... Lt. Dotsy Doheny
Battlestar Galactica" (2003) (mini) .... Captain Lee "Apollo" Adama
Daniel Deronda (2002) (mini) .... Hans Meyrick
Ultimate Force (2002) (mini) .... Dotsy Doheny
Peak Practice (1993) .... Dr. Matt Kendal (2001 Series 12)
Band of Brothers (2001) (mini) .... 2nd Lt. Jack Foley
Hornblower: Retribution (2001) .... 4th Lt. Archie Kennedy
Hornblower: Mutiny (2001) .... 4th Lt. Archie Kennedy
Bob Martin (2001) .... James Warburton
Lady Audley's Secret (2000) .... George Talboys
The Murder of Roger Ackroyd (2000) .... Ralph Paton
Hornblower: The Frogs and the Lobsters (1999) .... Midshipman Kennedy
Hornblower: The Duchess and the Devil (1999) .... Kennedy
Nicholas Nickleby (1999) (mini) .... Lord Verisopht
"Scarlet Pimpernel, The" (1999) (mini) .... Lord Tony Dewhurst
Hornblower: The Even Chance (1998) .... Midshipman Archie Kennedy
________________________________________
THEATRE
Henry IV (2002) .... Prince Hal (Bristol Old Vic)
________________________________________
WEBSITES
________________________________________
BACK TO KNIGHTS
________________________________________
ABOUT - QUEENS - KINGS - PRINCES - PRINCESSES
KNIGHTS - LADIES - COURT ROLL - GOSSIP
STORIES - LINKS - COPYRIGHT - CONTACT