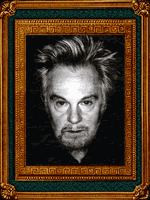 Derek Jacobi studied at Cambridge and trained at the Birmingham Repertory Company until Laurence Olivier saw him perform and eventually invited him to join the newly-formed and highly exclusive, National Theatre Company.
He went on to be featured in the Olivier produced films of Othello (1965, as Cassio) and Three Sisters (1970). Interestingly, Derek Jacobi and Laurence Olivier are the only actors to have received both the Danish and British Knighthood.
In 1972, he starred in the BBC miniseries "Man of Straw", directed by Herbert Wise, who also cast him for the title role in "I, Claudius" three years later. Other television work included the coveted roles of Richard II and Hamlet in the BBC Shakespeare plays. In 1980, Derek gave his Broadway debut in "The Suicide" and then joined the Royal Shakespeare Company from 1982-1985 where he alternated four demanding roles in repertoire at the same time: Benedick, Prospero, Peer Gynt and Cyrano de Bergerac, an unprecedented feat. In 1986, he made his commercial West End debut in "Breaking the Code", which was also taken to Broadway, and continued on the West End two years later when he alternated the roles of Shakespeare's Richard II and Richard III in repertoire.
Derek professes to have always loved film, and cites his favorite movies as including Pinocchio and Alec Guinness movies. He has made his own film appearances in The Day of the Jackal (1973), The Odessa File (1974), The Medusa Touch (1978), The Human Factor (1979), Enigma (1982), Little Dorrit (1988), and the Kenneth Branagh films 'Henry V' (1989, as the Chorus) and 'Dead Again' (1991) (both films also starring Emma Thompson). Jacobi won a Tony Award for his role as Benedick in "Much Ado About Nothing," and critical acclaim for his stunning TV work in the BBC series "I, Claudius" and as Hitler in "Inside the Third Reich." Another popular Jacobi television series was The Cadfael Mysteries (1994-1998).
In 1985, he was awarded a CBE (Commander of the Most Excellent Order of the British Empire) and created a Knight Commander of the Most Excellent Order of the British Empire in 1994.
________________________________________
FILM
Joan of Arc: The Virgin Warrior (2004)
Two Men Went to War (2002) .... Maj. Merton
Night's Noontime (2002) .... Richard Dadd
A Revenger's Tragedy (2002) .... The Duke
Ultimate Fights from the Movies (2002) (V) (archive footage) .... Gracchus (Gladiator)
Gosford Park (2001) .... Mr. Probert
Revelation (2001) .... The librarian
The Diaries of Vaslav Nijinsky (2001) (voice) (as Sir Derek Jacobi) .... The Voice of Nijinsky
Body, The (2000) .... Father Lavelle
Up at the Villa (2000) .... Lucky Leadbetter
Gladiator (2000) .... Senator Gracchus
Father Damien (1999) .... Father Leonor Fouesnel
Love Is the Devil (1998) .... Francis Bacon
Basil (1998) .... Father Frederick
Hamlet (1996) .... Claudius
Achilles (1996) .... Narrator
Dead Again (1991) .... Franklyn Madson
The Fool (1990) .... Mr. Frederick and Sir John
Henry V (1989) .... Chorus
Little Dorrit (1988) .... Arthur Clennam
Enigma (1982) .... Kurt Limmer, East German
The Secret of NIMH (1982) .... Nicodemus
Charlotte (1980) .... Daberlohn
HThe uman Factor (1980) .... Arthur Davis
Der Mann, der sich in Luft auflöste (1980) .... Martin Beck
The Medusa Touch (1978) .... Townley
The Odessa File (1974) .... Klaus Wenzer
Blue Blood (1973) .... Gregory
DThe ay of the Jackal (1973) .... Caron
Three Sisters (1970) .... Andrei
Interlude (1968) .... Paul
Othello (1965) .... Cassio
________________________________________
TELEVISION
Dinosaur Hunters (2002) .... Narrator
The Edwardian Country House (2002) (mini) .... Narrator
The Gathering Storm (2002) .... Stanley Baldwin
The Jury (2002) (mini) .... George Cording QC
The 100 Greatest TV Characters (2001) (archive footage) .... Claudius
Jason and the Argonauts (2000) .... Phineas
The Wyvern Mystery (2000) .... Squire Fairfield
Flora Britannica (1999) .... Narrator
Animated Epics: Beowulf (1998) (voice) .... Narrator
Breaking the Code (1996) .... Alan Turing
Witness Against Hitler (1996) .... General
Cadfael (1994) .... Brother Cadfael
The Secret Garden (1994) (voice) .... Archibald Craven
Circle of Deceit (1993) .... Randal
The World of Peter Rabbit and Friends (1993) (voice) .... Mr. Jeremy Fisher
The Tenth Man (1988) .... The Imposter
The Secret Garden (1987).... Archibald Craven
Mr Pye (1986) .... Mr. Pye
Cyrano de Bergerac (1985) .... Cyrano de Bergerac
Inside the Third Reich (1982) .... Adolf Hitler
The Hunchback of Notre Dame (1982) .... Dom Claude Frollo
Hamlet, Prince of Denmark (1980) .... Hamlet
King Richard the Second (1978) .... King Richard
Philby, Burgess and Maclean (1977) .... Guy Burgess
I, Claudius (1976) (mini) .... Claudius
The Pallisers (1974) .... Lord Fawn
The Strauss Family (1972) (mini) .... Lanner
Much Ado About Nothing (1967) .... Don Pedro
________________________________________
THEATRE
"The Hollow Crown" (West End)
"Much Ado About Nothing" (Broadway)
"Breaking the Code" (Broadway and West End)
________________________________________
WEBSITES
________________________________________
BACK TO KINGS
________________________________________
ABOUT - QUEENS - KINGS - PRINCES - PRINCESSES
KNIGHTS - LADIES - COURT ROLL - GOSSIP
STORIES - LINKS - COPYRIGHT - CONTACT