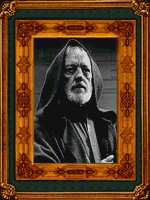 Alec Guinness was one of the last surviving members of a great generation of UK actors, which included Sir Laurence Olivier, Sir John Gielgud and Sir Ralph Richardson. He juggled working in advertising while studying at the Fay Compton Studio of Dramatic Art, graduating to debut on stage in 1934 and play classic theatre with the Old Vic from 1936.
In 1941 he entered the Royal navy as a seaman and was commissioned the next year. Beyond an extra part in 'Evensong' (1934), his film career began after World War II with his portrayal of "Herbert Pocket" in 'Great Expectations' (1946). A string of films, mostly comedies, showed off his ability to look different in every role - eight of them, including a woman, in one movie alone, 'Kind Hearts and Coronets' (1949).
He was best known as the Jedi Knight "Obi-Wan Kenobi" in the 'Star Wars' (1977) trilogy. He earned a best actor Oscar and Golden Globe in 'The Bridge on the River Kwai' (1957) and an Honorary Academy Award (1980) for "advancing the art of screen acting through a host of memorable and distinguished performances". Academy nominations have included 'The Lavender Hill Mob' (1951), 'The Horse's Mouth' (1958) (as screenwriter), 'Star Wars' (1977) and 'Little Dorrit' (1988).
He was awarded a CBE (Commander of the Most Excellent Order of the British Empire) in 1955 and knighted by Queen Elizabeth II in 1959 for his accomplishments in theatre and film. Sir Alec was created a Companion of Honour in 1994.
Sir Alec made his final stage appearance at the Comedy Theatre in London on May 30 1989, in a production called 'A Walk in the Woods', where he played a Russian diplomat. Always a plain speaker, with many quirks, in his last book of memoirs, "A Positively Final Appearance" (1999), he expressed a devotion to the TV show 'The Simpsons'. He was also rumoured to be a fan of the television series 'Due South'. He wrote two other autobiographies: "Blessings in Disguise" in 1985 and "My Name Escapes Me: Diary of a Retiring Actor" in 1997 (written with John LeCarre).
Described as "one of the finest actors of the century", one of his most famous quotes is: "Failure has a thousand explanations. Success doesn't need one."
Sir Alec passed away on 5 August 2000, from liver cancer. His widow, Merula, passed away on October 17 2000, just two months after her husband.
________________________________________
FILM
Mute Witness (1994) (as Mystery Guest Star) .... The Reaper
A Foreign Field (1993) .... Amos
Kafka (1991) .... The Chief Clerk
Little Dorrit (1988) .... William Dorrit
A Handful of Dust (1988) .... Mr. Todd
A Passage to India (1984) .... Prof. Godbole
Star Wars (1983) (VG) (voice) .... Obi-Wan Kenobi
Star Wars: Episode VI - Return of the Jedi (1983) .... Ben (Obi-Wan) Kenobi
Lovesick (1983) .... Sigmund Freud
Raise the Titanic (1980) .... John Bigalow
Star Wars: Episode V - The Empire Strikes Back (1980) .... Ben (Obi-Wan) Kenobi
Star Wars (1977) .... Ben (Obi-Wan) Kenobi
Murder by Death (1976) .... Jamesir Bensonmum / Irving Goldman / Marvin Metzler / Miss Irene Twain / Rita / Sam Diamond
Hitler: The Last Ten Days (1973) .... Adolf Hitler
Fratello sole, sorella luna (1972) .... Pope Innocent III
Scrooge (1970) .... Jacob Marley's Ghost
Cromwell (1970) .... King Charles I
The Comedians (1967) .... Major Jones
The Quiller Memorandum (1966) .... Pol
Hotel Paradiso (1966) .... Benedict Boniface
Situation Hopeless... But Not Serious (1965) .... Wilhelm Frick
Doctor Zhivago (1965) .... Gen. Yevgraf Zhivago
The Fall of the Roman Empire (1964) .... Marcus Aurelius
Lawrence of Arabia (1962) .... Prince Feisal
H.M.S. Defiant (1962) .... Capt. Crawford
A Majority of One (1961) .... Koichi Asano
Tunes of Glory (1960) .... Maj. Jock Sinclair
Our Man in Havana (1959) .... Jim Wormold
The Scapegoat (1959) .... John Barratt/Jacques De Gue
The Horse's Mouth (1958) .... Gulley Jimson
Barnacle Bill (1957) .... William Horatio Ambrose/six ancestors
The Bridge on the River Kwai (1957) .... Colonel Nicholson
The Swan (1956) .... Prince Albert
The Ladykillers (1955) .... Professor Marcus
The Prisoner (1955) .... The Cardinal
To Paris with Love (1955) .... Col. Sir Edgar Fraser
Father Brown (1954) .... Father Brown
The Malta Story (1953) .... Flight Lt. Peter Ross
The Square Mile (1953) (voice) .... Narrator
The Captain's Paradise (1953) .... Captain Henry St. James
The Card (1952) .... Edward Henry 'Denry' Machin
The Man in the White Suit (1951) .... Sidney Stratton
The Lavender Hill Mob (1951) .... Henry Holland
The Mudlark (1950) .... Benjamin Disraeli
Last Holiday (1950) .... George Bird
A Run for Your Money (1949) .... Whimple
Kind Hearts and Coronets (1949) .... The Duke / The Banker / The Parson / The General / The Admiral / Young Ascoyne / Young Henry / Lady Agatha
Oliver Twist (1948) .... Fagin
Great Expectations (1946) .... Herbert Pocket, Pip's roommate at Barnards Inn
Evensong (1934) (uncredited) .... Extra (W.W.I. soldier in concert audience)
________________________________________
TELEVISION
Eskimo Day (1996) .... James
Tales from Hollywood (1992) .... Heinrich Mann
Monsignor Quixote (1985) .... Father Quixote
Edwin (1984) .... Sir Fennimore Truscott
Smiley's People (1982) (mini) .... George Smiley
Little Lord Fauntleroy (1980) .... Earl of Dorincourt
Tinker, Tailor, Soldier, Spy (1980) (mini) .... George Smiley
The Gift of Friendship (1974)
E.E. Cummings (1970)
Twelfth Night (1969) .... Malvolio
The Wicked Scheme of Jebal Deeks (1959)
Baker's Dozen (1955)
________________________________________
THEATRE
Played Richard III in Stratford Festival's tent theatre during its inaugural season (1953)
Hamlet in Hamlet
Romeo in Romeo and Juliet
Dylan Thomas in Dylan
The Visitor in Converstions at Night
Gloucester in Richard III
Fool in King Lear
Osric in Hamlet
Jack in Importance Of Being Ernest
The Cardinal in The Prisoner
Andrew Aguecheek in Twelfth Night
________________________________________
WEBSITES
________________________________________
BACK TO KINGS
________________________________________
ABOUT - QUEENS - KINGS - PRINCES - PRINCESSES
KNIGHTS - LADIES - COURT ROLL - GOSSIP
STORIES - LINKS - COPYRIGHT - CONTACT