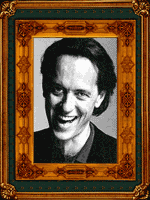 Richard E. Grant was born on 5 May 1957 in Mbabane, Swaziland, bearing the name Richard Grant Esterhuysen. He studied English and Drama at University in Capetown, South Africa, before moving to London in 1982 and working in the theater and on British TV.
He won a role in a short film about advertising called 'Honest, Decent and True,' which led to the leading role as an unemployed actor in the cult comedy hit 'Withnail and I' (opposite Paul McGann). This was an indication of the type of offbeat roles Richard would tend to play, and play often.
His next film, 'How to Get Ahead in Advertising' in 1989, had him starring as an ad executive who develops a talking boil on his shoulder. The film that got him the most attention was 'Warlock' in 1991, with Richard as a heroic warrior. A series of films followed on both sides of the Atlantic including 'Hudson Hawk', 'L.A. Story', 'The Player', 'Bram Stoker's Dracula' and 'The Age of Innocence'.
Known for playing lords, princes, society lads and sneaky servants, he has also played priests, vampires and villans, (among others), proving his worth as a talented and skillful character actor. He has played the romantic lead a few times, but truly shines in roles that let him explore the absurd and the unusual.
However, his autobiographical novel "With Nails: the film diaries of Richard E Grant" (1998) reveals a kind, passionate and surprisingly sensible person with strong views and (thankfully) a sense of the ridiculous, who also happens to be an excellent author. He published a second novel 'By Design', that same year.
________________________________________
FILM
Bright Young Things (2003) .... Father Rothschild
Monsieur N. (2003) .... Hudson Lowe
Gosford Park (2001) .... George
Hildegarde (2001) .... Wolf
William Shakespeare (2000) (archive footage) .... Withnail
The Little Vampire (2000) .... Frederick Sackville-Bagg
Comic Relief: Doctor Who and the Curse of Fatal Death (1999) (V) .... The (Quite Handsome) 10th Doctor
The Match (1999) .... Gorgeous Gus
Cash In Hand (1998) .... Sir Harry Parkins
St. Ives (1998) .... Major Chevening
Spice World (1997) .... Clifford
Food of Love (1997) .... Alex Salmon
Keep the Aspidistra Flying (1997) .... Gordon Comstock
The Serpent's Kiss (1997) .... James Fitzmaurice
The Portrait of a Lady (1996) .... Lord Warburton
Twelfth Night: Or What You Will (1996) .... Sir Andrew Aguecheek
Jack and Sarah (1995) .... Jack
Prêt-à-Porter (1994) .... Cort Romney
In the Cold Light of Day (1994) .... Viktor Marek
Calliope (1993) .... the Producer
Franz Kafka's It's a Wonderful Life (1993) .... Franz Kafka
The Age of Innocence (1993) .... Larry Lefferts
Bram Stoker's Dracula (1992) .... Dr. Jack Seward
The Player (1992) .... Tom Oakley
Hudson Hawk (1991) .... Darwin Mayflower
L.A. Story (1991) .... Roland Mackey
Henry & June (1990) .... Hugo Guiler
Mountains of the Moon (1990) .... Larry Oliphant
Killing Dad (1989) .... Ali Berg
Warlock (1989) .... Giles Redferne
How to Get Ahead in Advertising (1989) .... Denis Dimbleby Bagley
Hidden City (1988) .... Brewster
Withnail and I (1987) .... Withnail
________________________________________
TELEVISION
"Posh Nosh" (2003) .... Simon Marchmont
The Hound of the Baskervilles (2002) .... Jack Stapleton
Case of Evil (2002) .... Mycroft
The Miracle Maker (2000) (voice) .... John the Baptist
A Christmas Carol (1999) .... Bob Cratchit
Trial & Retribution III (1999) .... Stephen Warrington
"The Scarlet Pimpernel (1999) (mini) .... Sir Percy Blakeney/The Scarlet Pimpernel
Captain Star (1997) (voice) .... Captain Jim Star
An Evening with Lily Savage (1996) .... Audience Member/Himself
A Royal Scandal (1996) .... George, Prince of Wales
Karaoke (1996) (mini) .... Nick Balmer
Cold Lazarus (1996) (mini) .... Nick Balmer
Bed (1995) .... Nurse/Bedhead
Butter (1994)
Hard Times (1994) .... James Harthouse
Treasure Island (1993) (voice)
Suddenly, Last Summer (1993) .... George Holly
Codename: Kyril (1988) (.... Sculby
Honest, Decent & True (1985) ... Moonee Livingstone
________________________________________
WEBSITES
________________________________________
BACK TO PRINCES
________________________________________
ABOUT - QUEENS - KINGS - PRINCES - PRINCESSES
KNIGHTS - LADIES - COURT ROLL - GOSSIP
STORIES - LINKS - COPYRIGHT - CONTACT