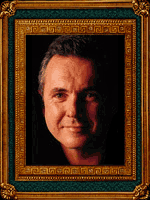 Alan Fletcher was born in Perth, Western Australia in 1957. He began his career in theatre, working extensively with The National Theatre (Perth) in what was essentially an apprenticeship, learning from great talents such as Warren Mitchell, Honor Blackman, Bill Kerr, Tom Stoppard and Tim Brooke-Taylor.
After three years of solid work without a break, now aged 23, Alan headed for Sydney, and immediately landed a guest role on the Australian television drama series, "The Young Doctors".
A trip to New Zealand followed, touring with Arthur Lowe in the comedy "Beyond a Joke". Upon returning to Sydney, he auditioned for and was accepted into the National Institute for Dramatic Art (NIDA), which coincided with his also being offered a year's contract with the highly popular drama series "Cop Shop". Television won and Alan came to the nation's attention as Constable Frank Rossi, which established him as the new hearthrob on the block.
Many roles in television, film and theatre came soon after including the mini series' 'Sword of Honour' and 'All the Rivers Run II', the NBC movie 'Mercy Mission' (aka 'The Flight From Hell'), opposite Scott Bakula, and his AFI-nominated performance in the critically acclaimed ABC political drama series 'Embassy'. He also made a guest appearance on 'The Love Boat' as Morgan Fairchild's fiance, when The Boat docked in Australia for a series of episodes.
His film roles have included 'Gross Misconduct', 'Beyond My Reach', 'What the Moon Saw', 'Fran' and 'Cool Change'.
He juggled all this with his continuing theatrical career, working in lead roles with the Melbourne Theatre Company continuously for three years, while also appearing on television comedy shows and ABC Radio.
In 1994, he was offered the role of "Dr Karl Kennedy" in the infamous Australian soap, 'Neighbours' - a role he continues to play to this date. He has played the villian for the last three seasons in UK pantomime, been in the musical 'Mame' and made appearances on several documentaries. He is also one of Melbourne's leading voice-over artists.
________________________________________
FILM
Gross Misconduct (aka Gross Indecency) .... Henry Landers
Beyond My Reach .... Alex Gower
What the Moon Saw .... Mr. Esposito
Crime Time .... Charlie Cunningham
Fran .... Jeff
Cool Change .... Rob Mitchell
________________________________________
TELEVISION
Neighbours .... Dr. Karl Kennedy
Mercy Mission (aka The Flight From Hell) .... Frank Harkin
Embassy .... Michael Clayton
Liftoff .... Harry Stintson
Sword of Honour .... Frank Vittorio
All The Rivers Run II .... Sergeant McLean
Neighbours .... Greg Cooper
One Thousand Skies .... Navigator
Cop Shop .... Constable Frank Rossi
Falcon Island .... Alan
________________________________________
THEATRE
Heart for the Future as "The Producer"
The Touch of Silk as "Cliff"
As You Like It as "Duke Senior" and "Duke Fredrick"
Romeo and Juliet as "Tybalt" (also stage fight choreographer)
The Three Musketeers as "Aramis"
God's Best Country as "Horse"
The Sentimental Bloke (as "Ginger Mick"
On Our Selection as "Sandy"
Buried Child as "Vince"
No Names ... No Packdrill (as "Tiger Kelly"
Privates on Parade (as "Flight Sergeant Kevin Cartwright"
Beyond a Joke (NZ and Aust. tour with Arthur Lowe)
Taming of the Shrew s "Lucentio"
Privates on Parade as "Private Steven Flowers" (with Tim Brooke-Taylor)
Night and Day as "Jacob Milne" (with Honor Blackman)
Death of a Salesman as "Hap Loman" (with Warren Mitchell)
No No Nanette (as "Tom Trainor"
Ghost Train as "Murdoch"
No Man's Land as "Foster"
Three Sisters as "Rode"
Somethings Afoot as "Nigel Rancour"
________________________________________
WEBSITES
________________________________________
BACK TO PRINCES
________________________________________
ABOUT - QUEENS - KINGS - PRINCES - PRINCESSES
KNIGHTS - LADIES - COURT ROLL - GOSSIP
STORIES - LINKS - COPYRIGHT - CONTACT