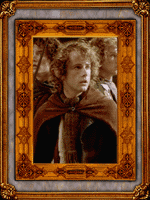 Billy Boyd was born on 28 August 1968 in Glasgow, Scotland, UK. He, and sister Margaret, were raised in Cranhill, Glasgow, Scotland by his grandmother, after losing both his parents. He attended the Royal Scottish Academy of Music & Drama and graduated with a Diploma in Dramatic Arts.
Although film seems his current medium, Billy's background is very much based on the stage. He made his professional theatre debut in 'The Secret Diary of Adrian Mole, Aged 12 and 3/4' as "Adrian Mole" at the Byre Theatre with St. Andrew's Repetory. This lead to playing "Arthur" in 'Merlin the Magnificent' at the Edinburgh Royal Lyceum Theatre and "Tommy" in the UK Tour of 'Trainspotting'. He returned to the Edinburgh Royal Lyceum Theatre to play roles in 'The Merchant of Venice', 'Much Ado About Nothing', 'Hansel and Gretel', 'Britannia Rules' and 'The Speculator', among others.
Billy is also a talented singer with a strong tenor / light baritone voice (range: F# to A above middle C over 2 octaves). He also plays the guitar, and the bass.
His television debut was on the Scots detective series 'Taggart' as "Jamie Holmes" in 1996, followed by 'Coming Soon' - a mocumentary about an experimental theatre group, playing the role of "Ross" in 1999.
Billy made several films before shooting to fame as "Peregrin Took" in Peter Jackson's 'Lord of the Rings' trilogy of films in 2001. He has just finished filming 'Master & Commander', an eighteenth-century sailing saga, with Russell Crowe, directed by Peter Weir.
________________________________________
FILM
The Lord of the Rings: The Return of the King (2003) .... Peregrin Took
Master and Commander: The Far Side of the World (2003) .... Barrett Bonden
The Lord of the Rings: The Two Towers (2002) .... Peregrin Took
The Lord of the Rings: The Fellowship of the Ring (2001) .... Peregrin Took
Julie and the Cadillacs (1999) .... Jimmy Campbell
Urban Ghost Story (1998) .... Loan Shark
The Soldier's Leap (1998) .... Postman
________________________________________
TELEVISION
Sniper 470 (2002) .... The Gunner
Coming Soon (1999) .... Ross
Taggart: Dead Mans Chest (1996) .... Jamie Holmes
________________________________________
THEATRE
The Ballad Of Crazy Paola .... Raymond (Traverse, Edinburgh)
The Speculator .... Lord Islay (Traverse For Edinburgh Lyceum)
An Experienced Woman Gives Advice .... Irving (Royal Lyceum. Edinburgh)
Therese Raquin .... Camille (Communicado At Edinburgh Royal Lyceum)
Britannia Rules .... Hughie (Edinburgh Lyceum)
Kill The Old, Torture Their Young .... Darren (Traverse)
Hansel & Gretel .... Hansel (Edinburgh Royal Lyceum)
Much Ado About Nothing .... Borachio (Edinburgh Royal Lyceum)
Caledonia Dreaming .... Darren Boyd (Traverse, Edinburgh & Tour)
Widows .... Alexis (Traverse & National Tour)
Merchant Of Venice .... Lorenzo (Edinburgh Royal Lyceum)
Trainspotting .... Tommy & Sick Boy (UK Tour)
Much Ado About Nothing .... Borachio (Cottier Theatre, Glasgow, Original Shakespeare Company)
Merlin The Magnificent .... Arthur (Edinburgh Royal Lyceum)
The Slab Boys .... Spanky (Byre Theatre, St.Andrew's Rep)
Secret Diary Of Adrian Mole .... Adrian Mole (Byre Theatre, St.Andrew's Rep)
________________________________________
WEBSITES
________________________________________
BACK TO KNIGHTS
________________________________________
ABOUT - QUEENS - KINGS - PRINCES - PRINCESSES
KNIGHTS - LADIES - COURT ROLL - GOSSIP
STORIES - LINKS - COPYRIGHT - CONTACT