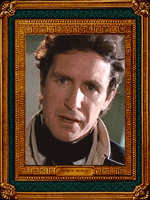 Paul McGann was born on 14 November 1959 in Liverpool, England, UK. He began his television career in the series 'Give Me A Break' (opposite Robert Lindsay), but he came fully to the public's attention as the "I" in the classic cult film 'Withnail and I', opposite Richard E. Grant.
Although accruing many credits after this, the role that truly launched his career was as George Lazenby "The Doctor" (also known as the Eighth Doctor) in the 1996 TV movie revival of the cult BBC series, 'Doctor Who'.
However, this single performance as The Doctor, would also be a burden, as audiences so strongly associated him with the role that it looked like it might also end his career. While the public reaction was a testament to his acting ability and suitability for the part, he was concerned about possible typecasting. He is reported to have said of that time: "I don't want to be remembered as the George Lazenby of Doctor Who."
But he needn't have worried. Coming from such a strong acting family (with actor brothers Mark McGann, Stephen McGann and Joe McGann), and with a brilliant talent of his own, he was soon offered other roles and his career went from strength to strength.
He has since played roles in various films and television series, including 'Fairytale : A True Story', 'Our Mutual Friend', 'The Biographer', 'Sweet Revenge', 'Blood Strangers' and 'Queen of the Damned' (which also featured Pia Miranda).
His currently best known role is that of "Lieutenant Bush", opposite Ioan Gruffudd and Robert Lindsay in the hugely popular 'Hornblower' series of films.
________________________________________
FILM
Queen of the Damned (2002) .... David Talbot
My Kingdom (2001) .... Dean
The Dance of Shiva (1998) .... Capt. Greville
Downtime (1997) .... Rob
FairyTale: A True Story (1997) .... Arthur Wright
The Three Musketeers (1993) .... Girard/Jussac
Alien³ (1992) .... Golic
Afraid of the Dark (1991) .... Tony Dalton
Fraile, El (1990) .... Father Lorenzo Rojas
Paper Mask (1990) .... Matthew Harris
Rehovot Ha'Etmol (1989)
Dealers (1989) .... Daniel Pascoe
The Rainbow (1989) .... Anton Skrebensky
Tree of Hands (1989) .... Barry
Withnail and I (1987) .... 'I' (Peter Marwood)
Empire of the Sun (1987) .... Lt. Price
________________________________________
TELEVISION
Hornblower: Duty (2003) .... Lieutenant Bush
Hornblower: Loyalty (2003) .... Lieutenant Bush
Blood Strangers (2002) (mini) .... DC David Ingram
The Biographer (2002) .... Andrew Morton
Sweet Revenge (2001) .... Professer Patrick Vine
Hornblower: Retribution (2001) .... 2nd Lt. Bush
Hornblower: Mutiny (2001) .... 2nd Lt. Bush
Hotel! (2000) .... Ben Carter
Fish (2000) .... Jonathan Vishnevski (Fish)
Nature Boy (2000) (mini) .... Steve Witton
Forgotten (1999) .... Ben Turner
Our Mutual Friend (1998) (mini) .... Eugene Wrayburn
The Merchant of Venice (1996) .... Bassanio
The One That Got Away (1996) .... Cpl. Chris Ryan
Testament: The Bible in Animation (1996) .... David
Doctor Who (1996) .... The Doctor
The Hanging Gale (1995) .... Liam Phelan
Katharina die Große (1995) .... Potemkin
Nice Town (1992) (mini) .... Joe Thompson
Drowning in the Shallow End (1990) .... Colin
Cariani and the Courtesans (1987) .... Cariani
The Monocled Mutineer (1987) .... Percy Toplis
The Importance of Being Earnest (1986) .... John Worthing
Give us a Break (1983) .... Mo Morris
________________________________________
WEBSITES
________________________________________
BACK TO PRINCES
________________________________________
ABOUT - QUEENS - KINGS - PRINCES - PRINCESSES
KNIGHTS - LADIES - COURT ROLL - GOSSIP
STORIES - LINKS - COPYRIGHT - CONTACT