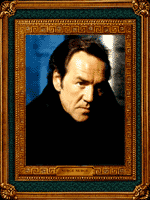 Robert Lindsay was born Robert Lindsay Stevenson on December 13, 1949 in Ilkeston, Derbyshire, UK.
After graduating from high-school, Robert intended to become a drama teacher - however on the urging of his friends at the Nottingham Playhouse, he decided to apply to the Royal Academy of Dramatic Arts (RADA) instead. He was accepted into RADA in 1968 on a government grant.
He first became a household name in the UK, as "Wolfie" in the 1977 sitcom 'Citizen Smith'. Since then, he has appeared in numerous TV series, feature films and stage productions and has won not just an long list of acting awards on both sides of the Atlantic, but a well-deserved reputation as "a pre-eminent British Actor – brilliant and inimitable".
Best known for his singing, dancing and affable clowning, Robert is a heavyweight Shakespearean having performed, among many others, "Fabian" in 'Twelfth Night', "Lysander" in 'A Midsummer Night's Dream, "Iachimo" in 'Cymbeline'; "Edmund" in 'King Lear' and "Benedick" in 'Much Ado About Nothing' for BBC television.
Robert was ushered to Hollywood via the Tony Award-winning success of 'Me and My Girl' opposite Emma Thompson. The movie 'Bert Rigby, You're a Fool' (1989) was specifically designed to showcase his delightful song-and-dance talents and show-off his charm and magnetism that scored so well with audiences.
In 1990 he appeared in the comedy film 'Strike It Rich', and then returned to television for two comedies 'Nightingales' and 'GBH' – for which he won the BAFTA award for Best Actor. He played the part of "Otto Schatz" in the film 'Genghis Cohn' in 1993, working with Antony Sher and Diana Rigg. Next followed three more television series – 'The Wimbledon Poisoner' (1994), 'Jake's Progress' (1995) for which he received a BAFTA nomination for Best Actor and 'The Office' (1996). He also played "Captain Pellew" in the hugely popular dramatisations of C S Forester's, Horatio Hornblower novels – 'Hornblower', with Ioan Gruffudd and Jamie Bamber.
At the end of 1999 Robert played the role of "Fagin" in ITV's production of 'Oliver Twist'. In 2000, he was seen on Victoria Wood's Christmas special for the BBC playing "Bob Cratchit" alongside other stars, including Derek Jacobi, Richard E Grant and Alan Rickman in 'Victoria Wood with All the Trimmings'.
________________________________________
FILM
Divorcing Jack (1998) .... Michael Brinn
Remember Me? (1997) .... Jamie
Fierce Creatures (1997) .... Sydney Lotterby
Goodbye My Love (1996) .... Derek Humphry
Strike It Rich (1990) .... Bertram
Bert Rigby, You're a Fool (1989) .... Bert Rigby
Adventures of a Taxi Driver (1976) .... Tom
Three for All (1974) .... Tom
That'll Be the Day (1973) .... Terry

________________________________________
TELEVISION
Hornblower: Duty (2003) .... Sir Edward Pellew
Hornblower: Loyalty (2003) .... Commodore Sir Edward Pellew
"Don't Eat the Neighbours" (2001) .... Rabbit
Hornblower: Retribution (2001) .... Cmmdre. Sir Edward Pellew
Hornblower: Mutiny (2001) .... Cmmdre. Sir Edward Pellew
The Heat Is On (2001) .... Narrator
The 100 Greatest TV Characters (2001) (archive footage) .... Wolfie Smith/Michael Murray
Hawk (2000) (mini) .... Luke Hawkins
My Family (2000) .... Ben Harper
Jack the Ripper: An On-Going Mystery (2000) .... Narrator
Oliver Twist (1999) (mini) .... Fagin
Hornblower: The Frogs and the Lobsters (1999) .... Captain Pellew
Hornblower: The Duchess and the Devil (1999) .... Capt. Pellew
In Your Dreams (1998) (voice) .... Narrator
Hornblower: The Examination for Lieutenant (1998) .... Capt. Sir Edward Pellew
Hornblower: The Even Chance (1998) .... Capt. Sir Edward Pellew
Brazen Hussies (1996) .... Billy Bowmans
The Office (1996) .... Norman Platt
Jake's Progress (1995) (mini) .... Jamie Diadoni
The Wimbledon Poisoner (1994) (mini) .... Henry Farr
Genghis Cohn (1993) .... Otto Schatz, Commissioner of Police
GBH (1991) .... Michael Murray
Nightingales (1990) .... Carter
Confessional (1989) .... Thomas Kelly
Tales from the Crypt (1989)
Much Ado About Nothing (1984) .... Benedick
King Lear (1984) .... Edmund
Give us a Break (1983) .... Micky Noades
Cymbeline (1982) .... Iachimo
A Midsummer Night's Dream (1981/I) .... Lysander
Seconds Out (1981) .... Pete Dodds
All's Well That Ends Well (1981) .... First French Lord
Twelfth Night (1980) .... Fabian
Citizen Smith (1977) .... Wolfie Smith
Get Some In! (1975) .... Jakey Smith (1975-1977)
________________________________________
THEATRE
"Me and My Girl" (Broadway) (1987)
________________________________________
WEBSITES
________________________________________
BACK TO KINGS
________________________________________
ABOUT - QUEENS - KINGS - PRINCES - PRINCESSES
KNIGHTS - LADIES - COURT ROLL - GOSSIP
STORIES - LINKS - COPYRIGHT - CONTACT