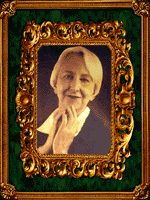 Ruth Cracknell began her career in radio in Sydney in 1945. In 1948 she joined the John Alden Company and played in 'King Lear', 'Measure For Measure' and 'The Tempest'. She went on to perform leading roles in Australian television and film, while continuing her theatre career.
In 1980, she was appointed a Member of the Order of Australia for her services to the performing arts and her extensive community work, in particular with various Indigenous Australian organisations.
Ruth's work in Australian film was critically acclaimed, and she was known for taking risky and unusual roles. This was exemplified in 'Emerald City' and 'Spider and Rose' where she appeared nude in one scene (by now she was in her late sixties).
She was awarded two honorary doctorates from the University of Sydney and Queensland University of Technology. She published her autobiography, "A Biased Memoir", in 1997, followed by her second autobiographical book, entitled "Journey From Venice", beginning with the funeral of her beloved husband (in 1998), and detailing their last holiday together.
In 1998 Ruth was named by the National Trust as one of Australia's 100 Living National Treasures, marking her as one of the Grande Dames of the Australian performing arts world.
Ruth passed away on 13 May, 2002 from a respiratory illness.
________________________________________
FILM
Joey (1997) .... Sylvia Vanderberg
Lilian's Story (1995) .... Lilian Singer
Spider & Rose (1994) .... Rose Dougherty
Kokoda Crescent (1989) .... Alice
Emerald City (1988) .... Elaine Ross
Molly (1983) .... Mrs. Reach
Best of Friends, The (1981) .... Iris
Chant of Jimmie Blacksmith, The (1978) .... Mrs. Heather Newby
Night, the Prowler, The (1978) .... Doris Bannister
Singer and the Dancer, The (1977) .... Mrs. Bilson
That Lady From Peking (1970) .... Fortune Teller
Smiley Gets a Gun (1959) .... Mrs. Gaspen
________________________________________
TELEVISION
"Frontier" (1997) (mini) TV Series .... several voices
Importance of Being Earnest, The (1992/I) (TV) .... Lady Bracknell
Alice to Nowhere (1986) (TV) .... Mrs. Spencer
"Dismissal, The" (1983) (mini) TV Series .... Margaret Whitlam
"Mother and Son" (1983) TV Series .... Maggie Beare
"Golden Soak" (1979) (mini) TV Series
"Ben Hall" (1975) TV Series
"Seven Little Australians" (1973) (mini) TV Series .... Martha
"I'm Alright Now" (1967) TV Series
"Smugglers Beware" (1963) TV Series
"Young Ramsay" (1977) - "Hazel Barton"
"Boney" (1973) - "Elizabeth Campbell"
"Long Arm, The" (1970) - "Mrs. Stevens"
________________________________________
WEBSITE
________________________________________
BACK TO QUEENS
________________________________________
ABOUT - QUEENS - KINGS - PRINCES - PRINCESSES
KNIGHTS - LADIES - COURT ROLL - GOSSIP
STORIES - LINKS - COPYRIGHT - CONTACT