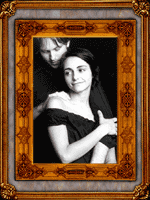 Pia Miranda first came to moviegoers attention in the role of "Josie Alibrandi" in the Australian film 'Looking for Alibrandi', opposite Greta Sacchi and Anthony La Palglia. Her portrayl of the teenage Josie's angst about life, her family and where she belonged in the greater scheme of things won huge acclaim and enormous attention from fans and critics alike.
Prior to playing Josie, Pia had appeared in various Australian television series, including 'Bondi Banquet', 'Neighbours' and 'All Saints'.
She has since appeared in the films 'Queen of the Damned', 'Garage Days' and 'Travelling Light'.
________________________________________
FILM
Travelling Light (2003) .... Leanne
Garage Days (2002) .... Tanya
Queen of the Damned (2002) .... Jesse's Roommate
Looking for Alibrandi (2000) .... Josie Alibrandi
________________________________________
TELEVISION
"Bondi Banquet" (1999) .... Jo Tognetti
"Neighbours" (1985) .... Karen Oldman
"All Saints" (1998) .... Brittany Finlay
________________________________________
WEBSITES
________________________________________
BACK TO LADIES
________________________________________
ABOUT - QUEENS - KINGS - PRINCES - PRINCESSES
KNIGHTS - LADIES - COURT ROLL - GOSSIP
STORIES - LINKS - COPYRIGHT - CONTACT