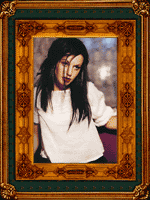 Abi Tucker was born on the 22nd January in 1973. She began her career in music, moving into acting in 1994 with the role of Jodie in the Australian television series 'Heartbreak High'.
Not wanting to leave music completely behind her, Abi also released a CD single in Australia she had written called "Breathe In" which appeared on the 'Heartbreak High' soundtrack.
After her stint on 'Heartbreak High', Abi took a break from the acting business and spent some time in the UK, travelling and working on her music. She returned to Australia, making a guest appearance in 'Water Rats' and then landed the role of "Kate Holbeck" in 'Wildside' in 1999.
In 2000, Abi appeared in the hit movie "The Wogboy". She then played a lead role in the movie "Angst". She recorded two songs for the soundtrack and movie, "Move You" and "Home".
In July 2001, 'The Secret Life Of Us', screened on Australian television as a two hour special, with Abi in the role of "Miranda". Following the success of this, the show extended into a 26 part TV series. It is now being screened in Australia as well as the UK and USA. Abi continued with her music and also released the double-A sided single "Everything/Everybody" in Australia.
Abi left 'The Secret Life of Us' in 2003 and is now focussing on her movie and music career.
________________________________________
FILM
Angst (2000) .... May
The Wog Boy (2000) .... Annie O'Brien
Envy (1999) .... Lissa
________________________________________
TELEVISION
My Husband My Killer (2001) .... Michelle
The Secret Life of Us (2001) .... Miranda Lang
Wildside (1999) .... Kate Holbeck
Heartbreak High (1994) .... Jodie Cooper
Water Rats (1996) .... Amy Collins
________________________________________
THEATRE
Appeared in the music-work-in-progress titled "Everything's F**ked" as part of the "In Space" Theatre project in Adelaide, South Australia in October 2002 alongside Rodger Corser, Andre Eikmeyer and Abbie Cardwell.
WEBSITES
________________________________________
BACK TO LADIES
________________________________________
ABOUT - QUEENS - KINGS - PRINCES - PRINCESSES
KNIGHTS - LADIES - COURT ROLL - GOSSIP
STORIES - LINKS - COPYRIGHT - CONTACT