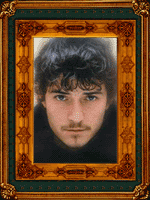 Orlando Bloom was born in 1977 in Canterbury, England, UK. Upon discovery that Superman was actually an actor (Christopher Reeve), Orlando decided that he too would take up the profession. He became a member of the National Youth Theatre (Britain), before attending and graduating from the Guildhall School of Music and Drama, England.
Named after the hero in Virginia Woolf's novel 'Orlando: A Biography', Orlando's first role to impact on the public was in a cameo part in a movie about another celebrated literary figure, "Wilde" in 1997, which also included Ioan Gruffudd in the cast.
A series of film offers followed, which he turned down to work on the stage for the next three years, playing roles in Anton Chekov's "The Seagull", William Shakespeare's "Twelfth Night" and "Trojan Women", amongst others.
It was during this time that he broke his back in a fall from a friend's three-storey balcony, which resulted in him being told by doctors that he'd never walk again. He went into surgery four days after the accident. 12 days later, he walked out of the hospital.
In 1999, Peter Jackson then "discovered" Orlando, first looking at him for the role of "Faramir", then casting him in the role of "Legolas" in his "Lord of the Rings" triliogy, alongside Billy Boyd, Cate Blanchett, Ian Richardson and many others. During filming Orlando fell off his horse, breaking a rib. As he puts it: "I'm rather accident-prone, I have to admit. I've broken my back, my ribs, my nose, both my legs, my arm, my wrist, a finger and a toe and cracked my skull three times."
This tendency towards being accident-prone doesn't stop Orlando from indulging in high risk sports such as bungy-jumping, parachuting and surfing. He also relished the chance to learn sword-fighting, archery and horseback riding for LOTR.
He has since played roles in "Black Hawk Down", "Ned Kelly", "Pirates of the Carribbean" and is currently filming "Troy".
________________________________________
FILM
The Remains of the Piano (2004) (pre-production) .... Daniel Day Lewis
Troy (2004) (filming) .... Paris
The Lord of the Rings: The Return of the King (2003) (filming) .... Legolas Greenleaf
Calcium Kid, The (2003) .... Jimmy
Pirates of the Caribbean: The Curse of the Black Pearl (2003) .... Will Turner
Ned Kelly (2003) .... Joe Byrne
The Lord of the Rings: The Two Towers (2002) .... Legolas Greenleaf
Black Hawk Down (2001) .... Todd Blackburn
The Lord of the Rings: The Fellowship of the Ring (2001) .... Legolas Greenleaf
Wilde (1997) .... Rentboy
________________________________________
TELEVISION
Lord of the Piercing (2002) .... Legolas
The Office (2001) .... Tony
Midsomer Murders (2000) .... Peter Drinkwater in episode: "Judgement Day"
________________________________________
WEBSITES
________________________________________
BACK TO KNIGHTS
________________________________________
ABOUT - QUEENS - KINGS - PRINCES - PRINCESSES
KNIGHTS - LADIES - COURT ROLL - GOSSIP
STORIES - LINKS - COPYRIGHT - CONTACT